STERLING RUBY'S INTERVENTION IN AMERICAN LIFE
Talking through his seminal, total-room artworks for Calvin Klein, the artist reveals something of the state of the nation, the joy of chrome, and why L.A. is the perfect city—because it isn't real.
Sterling Ruby

(born 1972) is an American artist who works in a wide range of aesthetic and material strategies.
Sterling Ruby was born on an American military base in Bitburg, Germany to a Dutch mother and an American father. He received a BFA from the School of the Art Institute of Chicago, Illinois and an MFA from Art Center College of Design in Pasadena, California. Today he lives and works in Los Angeles.
Ruby has cited a diverse range of sources and influences including aberrant psychologies, urban gangs and graffiti, hip-hop culture, craft, masculinity, violence, public art and civic monuments, prisons, globalization, consumption and waste, together with American domination and decline.
Even as his work deals with issues related to the violence and pressures within society and art history, it also deeply reflects his personal biography. In all of his work, he vacillates between the fluid and static, the minimalist and expressionistic, the hard and the soft, the pristine and the defaced. His voracious cycling through materials and subject matter has given rise to numerous recurring series and extended bodies of work.
Public collections possessing Sterling Ruby works include: Museum of Modern Art, New York; Solomon R. Guggenheim Museum, New York; Whitney Museum of American Art, New York; Museum of Contemporary Art, Chicago; Museum of Contemporary Art, North Miami; Museum of Contemporary Art, Los Angeles; Los Angeles County Museum of Art; Hammer Museum, Los Angeles; San Francisco Museum of Modern Art; Montreal Museum of Fine Arts; Tate Modern, London; Musée d'Art Moderne de la Ville de Paris; Centre Georges Pompidou, Paris; Moderna Museet, Stockholm.
More about Sterling Ruby
The impact is instantaneous; suspended from the entire ceiling appears to be the detritus of an explosion. Yet this detritus is pristine, tattered, chromed, colorful, cascading, threatening, and somehow joyful.
Is this what the inside of your head looks like?

"Probably," shrugs Sterling Ruby.
We are, in fact, sitting inside an artwork by Ruby. This work, a permanent, total-room installation, exists on the ground floor of the Calvin Klein headquarters at 205 W39 NYC. It exists in the confines of a fashion company; indeed, this address will appear on the label of the garments that will emerge during the ready-to-wear show that will take place in this space in a few days' time. It appears on the windows of the artwork, as well—Ruby also oversaw the facade of the building being repainted pitch black. Yet this room could quite as easily be transplanted to one of the world's great galleries or museums, the places where the unfettered imaginings of Ruby are usually embraced, or more rightly, left to run riot.
Is this what the inside of your head looks like? "Probably," shrugs Sterling Ruby.
With its buckets and baseball bats, pom-poms, fabric flags and giant, soft-sculpted candles, it is a distinctly personal and peculiar interior monologue that has been made flesh—or rather fabric, metal, and glass—by the artist. And yet the theme and subject matter are ultimately indisputable: America.
"When Raf [Simons] invited me to work on these projects for Calvin Klein," explains the artist, "he gave me the freedom to create work that was essentially my own. But of course, I also thought about what the company meant and stood for; I thought about America."
So here is Sterling Ruby's American dream in all of its contorted and autobiographical glory; with sparkling hot rod mufflers, star-spangled banners, famous underwear elastic, the odd bra or two, and perhaps the glittering jewel in the crown—certainly the largest object dangling from the ceiling—pointed out by the artist and explained somewhat wistfully: "I always wanted to chrome a security door."
"I essentially wanted to make a free-floating collage," says Ruby. "For the most part these are all elements I have worked with in all the mobile installations I have made. Yet Calvin Klein is an American platform, and I wanted to treat this company as an American brand, almost pitted against these big luxury houses. It has interesting combinations that luxury companies do not usually have; there are opportunities to have highs and lows. There's a behavior and an attitude related to it," and he's joking at this point, as he frequently does, "it's dirty gossip and hot sex!" Because while Sterling Ruby is a serious artist—arguably the preeminent artist of his generation—he doesn't take himself too seriously. He's also no doctrinaire art snob, rather honestly operating in the reality of art and commerce, and relishing both the fashion and art worlds. He later muses, the evolution of the company "is sort of a conceptual work in itself."
Maybe it's because he was an Army brat, born on an American military base in Germany in the '70s; maybe it was moving to near Baltimore, in the hinterland of rural Pennsylvania; then again, it could be his ultimate pilgrimage to Los Angeles, still the artist's home today and site of his rise to unconventional prominence in the art world. There is something of the dislocated outsider in Sterling Ruby's work and life: He refuses to play by the rules of the art establishment. And if that sounds contrarian, it wasn't meant to; rather he enjoys the in-betweens and revels in the opposites and extremes, and while not quite against interpretation, he certainly seems to bridle at classification.
Read more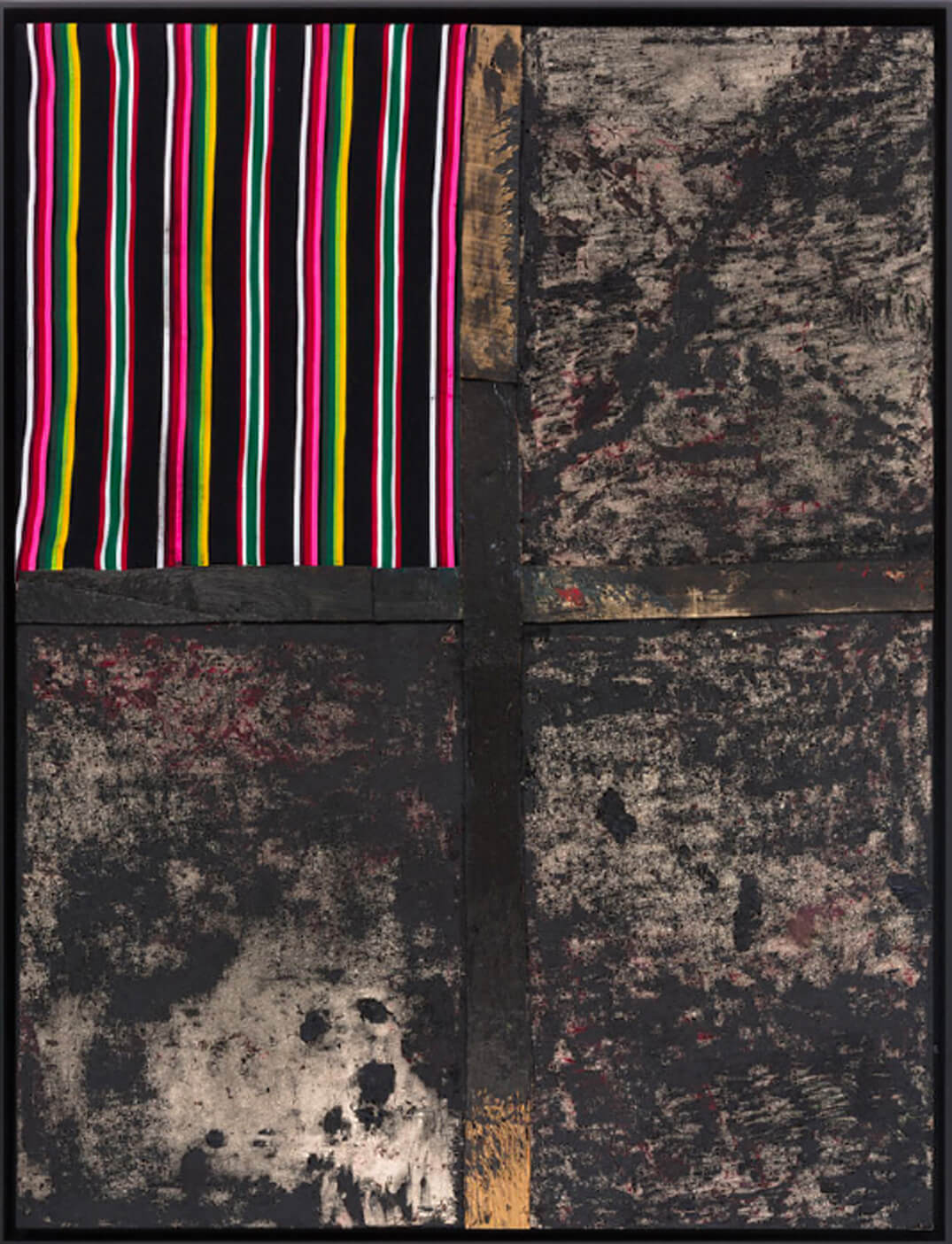 Sterling Ruby
March 1 through April 15
Gagosian
980 Madison Avenue
New York, NY 10075
Hours: Tue–Sat 10-6
T. 212.744.2313
F. 212.772.7962
newyork@gagosian.com
"The psychosis of L.A. is so different," he says; the artist frequently talks about pathologies and psychoses as related to cities, but it is something that can be seen as a metaphor for his own work. "Los Angeles is the perfect city because it is not a real city—it's the geography and diversity of the place. When I first moved to L.A., I was fascinated by the extremely rural patches with people living on them, and then suddenly there could be a luxury high-rise condo. There are mountains with snow, the desert, downtown, and the beach—it's a schizophrenic landscape."
"I always wanted to chrome
a security door."
And so too Ruby's use of multiple mediums could be seen to be part of a "schizophrenic landscape"; from the connotations of feminine craft in ceramics and textiles to the hypermasculine sculptures and vast paintings—and then there are the crosses between the two, the soft sculptures and mobiles. It is a true mark of Sterling Ruby the artist that his signature is instantly recognizable in all mediums.
Which brings us to the 12th floor of the Calvin Klein headquarters and a cross-cultural, schizophrenic artwork if ever there was one. Here the collision of Ruby the artist, designer, and disruptor really comes into play. With its paint-spattered, canvas-covered walls—in red, white, and blue no less—with its banana yellow Formica intrusions and giant soft sculptures that seem to have rolled in like huge snakes, the high-concept Americana continues. Again there is the glittering chrome—including a rather lovely crowbar-made ornament—but this time it mostly serves the purpose of displaying clothes. For this is the sales and press floor of Calvin Klein HQ and the place where art truly meets commerce within the building. It is perhaps also the biggest sign of a cultural shift at Calvin Klein toward something downright weirder.
"It is an interesting project to intervene in at this point in time," says Ruby. "To intervene in a massive American corporate structure that is known for making statements about American life—it's really something."
Quite frankly, how could he resist?
Read more