CALVIN KLEIN
Andy Warhol
A meeting of American icons; part of CALVIN KLEIN's unique, ongoing partnership with The Andy Warhol Foundation for the Visual Arts.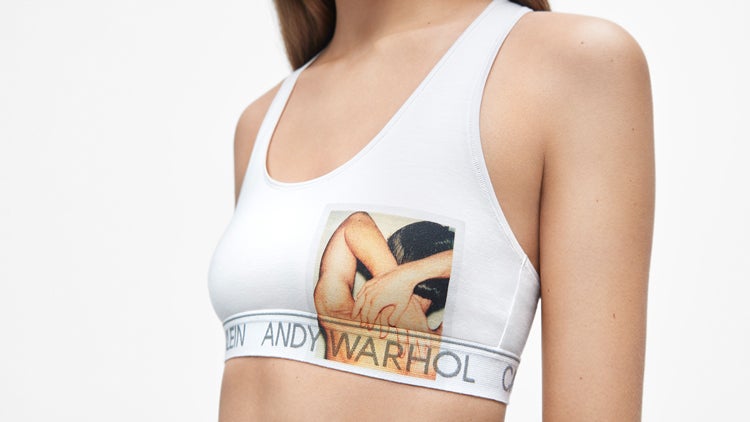 Andy Warhol:
Exposures

, '77-'85
Andy Warhol's provocative, snapshot celebrations of the human body come to life on classic CALVIN KLEIN UNDERWEAR styles.
READ MORE
A capsule offering from CALVIN KLEIN UNDERWEAR and The Andy Warhol Foundation for the Visual Arts. Available in exclusively designed packaging, the men's range is comprised of four T-shirts and tank tops, two men's hip briefs, two trunks, and two boxer briefs. Women's designs are available in two high-neck bralettes, two racerback bralettes, two boy shorts, and two bikinis.

Featuring four photo prints, the styles depict the human physique as celebrated through the Pop titan Warhol's singular, filmic lens. Taken between 1977 and 1985, anonymous male denizens of New York's nightlife demimonde and Italian magazine editor Daniella Morera are immortalized through Warhol's photos in much the same way as his most storied subjects. Juxtaposing the forms of classical nudes in which Warhol had been trained with the post-modern immediacy of instant film, the photos embody the same egalitarian spirit which is at the core of so much of his work; the images are "high" in their sculptural sensibilities and luminous forms, but sharply contrasted by their "low" medium: the everyday snapshot photo.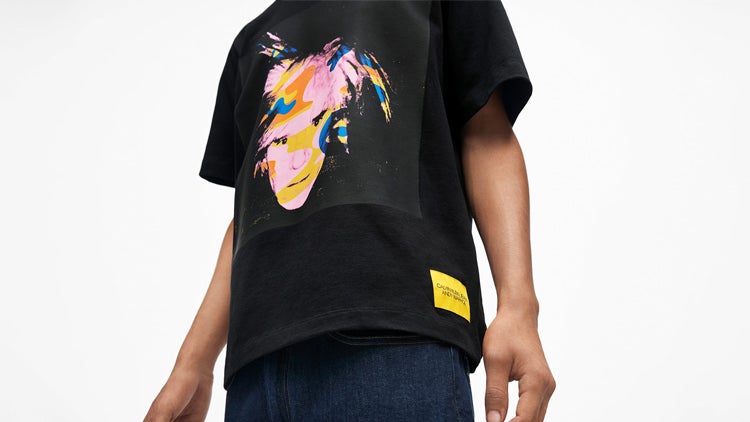 SELF-PORTRAITS
Contemporary CALVIN KLEIN JEANS silhouettes, printed with self-portraits by Andy Warhol–at once enigmatic and candid documents of the legendary Pop artist.
READ MORE
As part of its ongoing partnership with The Andy Warhol Foundation For the Visual Arts, the legacy of the storied Pop artist has made its way from the runway to CALVIN KLEIN JEANS—a fitting marriage of two icons of the American visual landscape. Embracing the egalitarian spirit for which Warhol was known, the offering will be composed of heritage-inflected denim, T-shirts, hoodies, small accessories, and classic canvas high-top sneakers, all printed with vibrant self-portraits of the artist.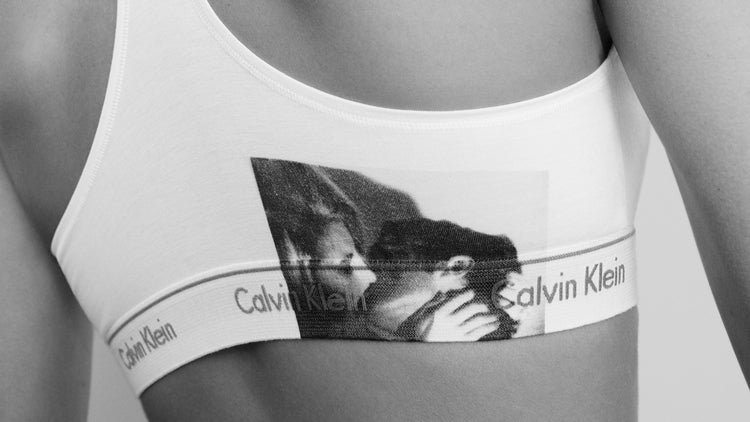 Kiss
A capsule of classic CALVIN KLEIN UNDERWEAR styles, printed with evocative stills from Andy Warhol's experimental 1963 film
Kiss.
READ MORE
As part of its unique and ongoing partnership with The Andy Warhol Foundation for the Visual Arts, CALVIN KLEIN introduces a special capsule collection of CALVIN KLEIN UNDERWEAR styles. Classic silhouettes in white cotton are printed with two evocative, black and white stills from Warhol's experimental 1963 film Kiss. A marriage of Pop Cultural icons—Warhol, architect of Pop Art as we know it, and CALVIN KLEIN UNDERWEAR—the offering includes tank tops and t-shirts, a men's brief and boxer brief, and a women's bralette and bikini. A still-resonant depiction of modern romance more than five decades later, the Kiss range will debut ahead of Valentine's Day.

One of Warhol's earliest cinematic explorations, for Kiss the artist trained his camera in close-up on 12 couples kissing, for 3 1/2 minutes each. In part a response to Hollywood censors of the day, which forbade lips lingering in a kiss for more than three seconds, upon its release the work was considered especially provocative for its depiction of biracial and homosexual pairings. The movie featured a mix of countercultural luminaries and Warhol's self-styled Factory "superstars" including Gerard Malanga and Baby Jane Holzer.