The Light Pours Out of Me
Dan Flavin, "untitled," 1996
"It is what it is and it ain't nothing else," Dan Flavin famously said of his art. Fluorescent tubes were Flavin's chosen medium, and while critics and onlookers tended to search for hints at the transcendent and divine in his work, the artist—an Air Force veteran who had once studied to be a priest—insisted it was simply light and architecture.
Flavin began drawing as a child, but after experimenting with light in the early '60s, it became his primary focus. "One might not think of light as a matter of fact, but I do. And it is, as I said, as plain and open and direct an art as you will ever find," he explained. Flavin has often been referred to as a Minimalist, a term that he actually disliked. His roots were in Dada, and admiring Marcel Duchamp's readymades, he worked with standard-size lights and prefabricated fixtures. He strongly believed in art as conceptual as opposed to executional, and would conceive his work and then leave the fabrication and installation to assistants. "The impact of Dan Flavin's work is hard to quantify because the radicality of his choice of materials and practice is hard to grasp in today's world, where everything and anything can be called 'art,'" says Kristine Bell of David Zwirner, the gallery that currently represents Flavin. "One has to remind oneself that his appropriation of an everyday object like a fluorescent light fixture was a paradigm-shifting aesthetic act."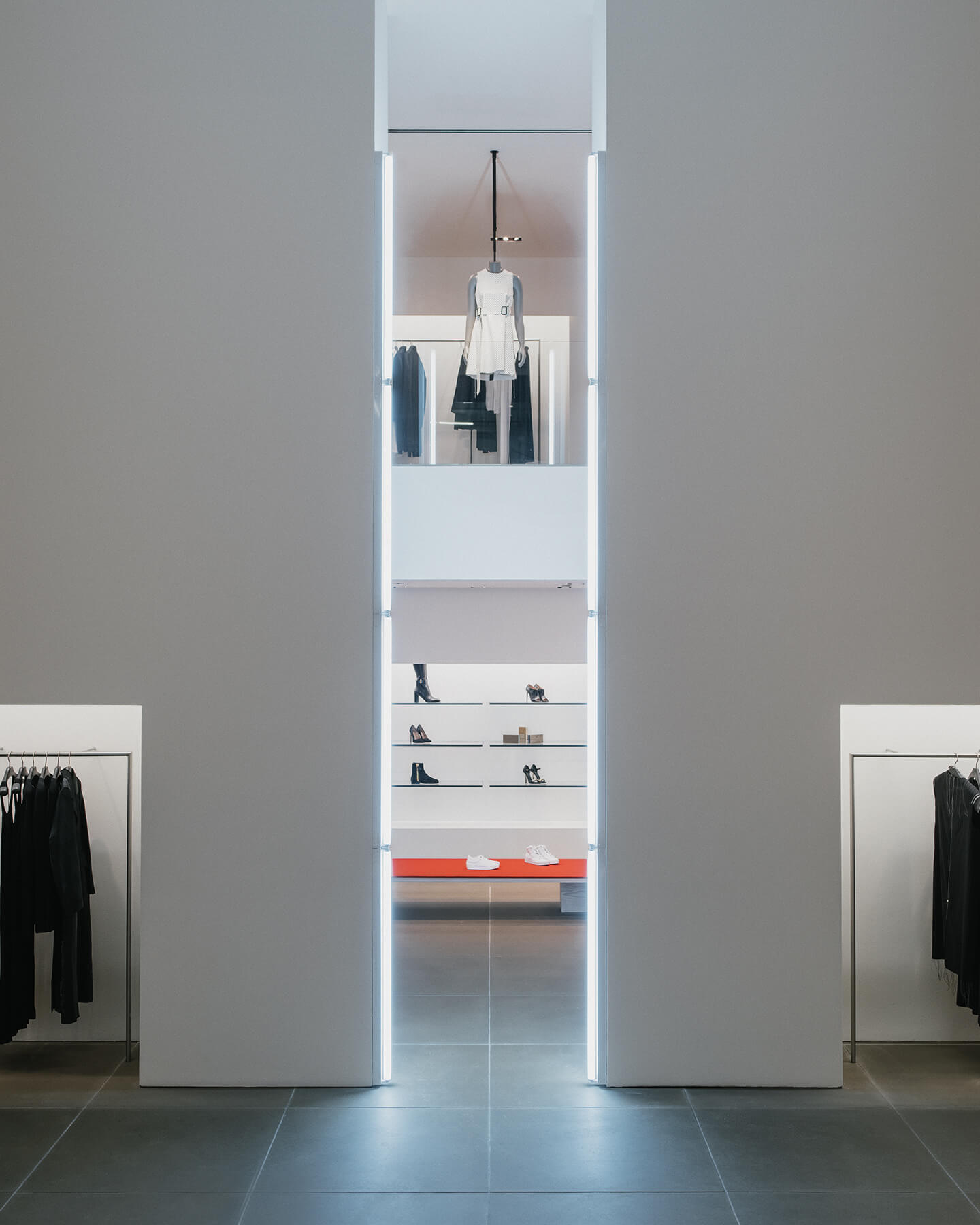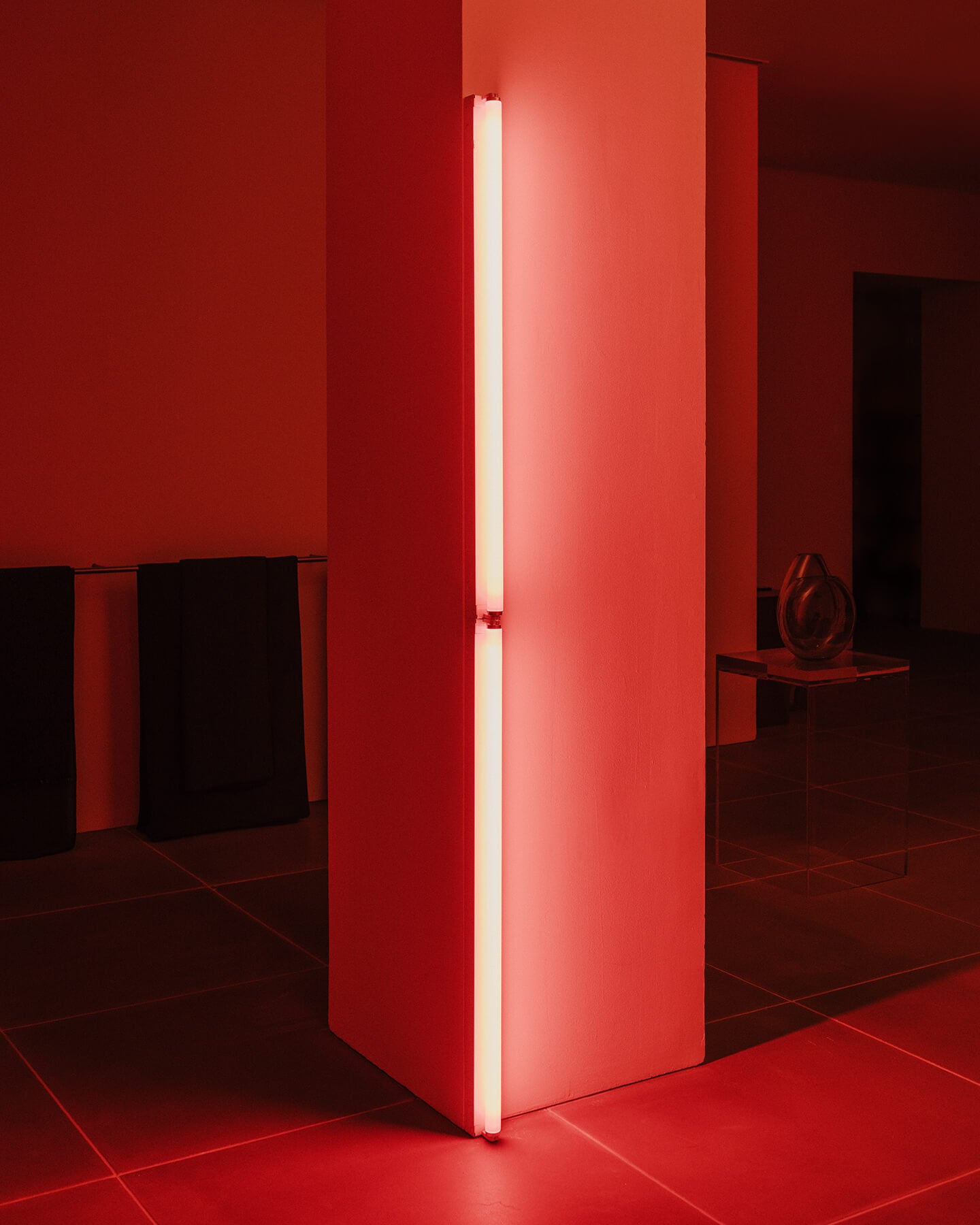 Flavin also eschewed the word 'sculptures,' preferring instead to call his pieces 'proposals,' or 'situations,' while his Dadaist humor came through in his titles. He called his early works 'Icons,' an ironic use of a religious term that seemingly suggested there was something else, even when he insisted it was nothing. His 'untitled' pieces were often followed with elaborate and revealing sentences in parentheses, such as "untitled (to S. M. with all the admiration and love which I can sense and summon)," a 1964 installation of pink, blue, red and yellow, or 1966's "Greens crossing greens (to Piet Mondrian who lacked green)," a teasing homage to an artist who worked in primary colors and purportedly detested green.
His first large-scale installation, in pink and gold, was in 1967 at the Museum of Contemporary Art in Chicago. His site-specific works were designed to draw attention to architecture and space, reinvigorating how they were experienced, such as the lighting of train platforms at New York's Grand Central Station in 1977, and in 1992, the entire rotunda of the Solomon R. Guggenheim Museum, the same institution where Flavin had once worked as a clerk in the mailroom.
In 1996, Calvin Klein himself commissioned Flavin to light the Calvin Klein Collection Madison Avenue store, and Flavin executed varying configurations in three specific spaces within the store. The untitled piece was installed for the 1996 festive season, and was the second-to-last work Flavin would create before his death in November of that year.
Now, for the first time since its original exhibition twenty years ago, Dan Flavin's untitled 'situation' will be reinstalled at the Madison Avenue store. This comes at the personal request of Calvin Klein's Chief Creative Officer Raf Simons, who, similarly to Flavin, has often been misrepresented as a Minimalist in his career. Simons' embracing of fine art and his initial background in industrial design makes it easy to see why he appreciates Flavin's work. Placed in the context of the season, the red and white daylight fluorescent bulbs in the Madison Avenue store seem to be Flavin's wry take on Christmas lights, suggesting, as always, that it is what it is—except when it isn't.